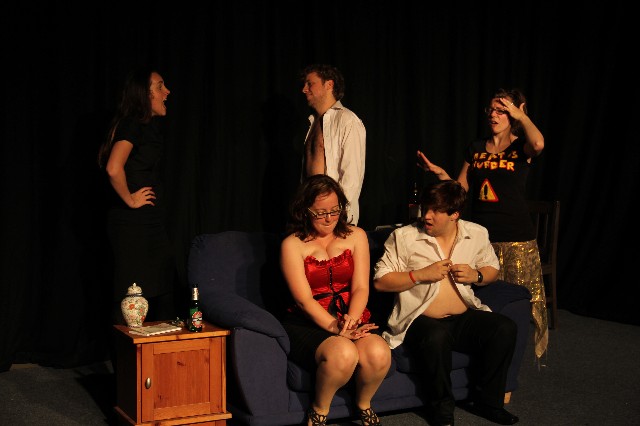 Good Grief opens at the funeral of Richard Miller, estranged father to Charlotte, Fred, and Tilly. The audience witnesses the hectic funeral and the even more farcically chaotic wake, as the three siblings struggle to deal with their own personal dramas on top coming to terms with their father's death.
This show is about a lot of things. It's about a doomed relationship between a neurotic control freak and a self-absorbed rich kid. It's about what happens when you accidentally invite a sex-deprived, middle aged French teacher to the wake of your father's funeral. It's about the effects of consuming large quantities of alcohol, and mixing it with Amsterdam's finest green herb. It's about the downfall of a feminist, vegan, environmentalist, activist lesbian who eats meat, fantasises over Robert Pattinson, and whose knowledge of political activism doesn't stretch much further beyond quoting Ghandi and Princess Diana. It's about what happens when your girlfriend's sister catches you using her laptop to masturbate over "Sexy4U Selhurst Slut" at the wake of her father's funeral.
It's about the relationship between three siblings who lost their dad long before he died. It's about their confusion over how to grieve someone who they barely even got to know. It's about their fear of the future, and of the past. And it's about their rediscovery of what it means to be a brother or a sister.
It's about finding openings, rather than closure. It's about asking questions, rather than getting answers. It's about accepting being lost, rather than trying to be found.
We also threw in a dance with whips and leather.
Cast
Peter "Peewee" Ward
Freddie Miller
Sophie Owen
Charlotte Miller
Jenny Deacon
Tilly Miller
Alex "Teddy" Clements
Phil Reynolds
Sarah Moir
Sam Hart
Ashleigh Moore
Miranda Robinson
Production Team
Chris Duncan
Director / Producer
Megan Gibson
Director
Stephanie Amies
Musical Director
Lizzie Bielicki
Assistant Musical Director / Producer
Sarah Elliot
Choreographer
Lucy Hughes
Producer
Jenni McDowall
Producer
Theresa Crisham
Assistant Producer / Technical Director