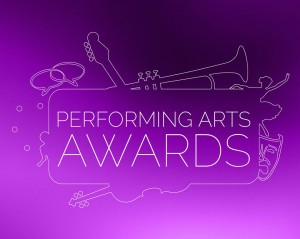 That's right, the Performing Arts Awards are back! We're so excited to present to you a tighter process, great prizes… and the chance for five winners to receive eternal glory. The Performing Arts Awards 2014-2015 will celebrate individual and team successes that have gone above and beyond the norm in the last twelve months.
There will be five awards, each to celebrate different aspects of creativity and effort that goes into all our societies in the Performing Arts.
The categories are as follows:
- OUTSTANDING SOCIETY
An outstanding society will work for all its members, and produce performance work of a high standard. They will work together to grow and achieve as a collective.
- COMMITMENT TO THE PERFORMING ARTS
An individual committed to the Performing Arts will have worked for the development of their society, or potentially across more than one society. Their commitment goes beyond performance, or sitting on a committee – they strive to achieve beyond what they are required to.
- ACHIEVEMENT IN THE THEATRICAL ARTS
An individual creative or performer who has produced work of an outstanding quality in a theatrical discipline: acting, musical theatre, opera, comedy, magic or circus skills.
- ACHIEVEMENT IN MUSIC
An individual creative or performer who has produced musical work of an outstanding quality.

- ACHIEVEMENT IN DANCE
An individual creative or performer who has produced dance work of an outstanding quality.
The winners will be selected through a nomination system: any member of the Performing Arts may submit nominations for any of the awards through the form here. Nominations will close at 11.59 on Sunday 4th April. Nominees can be selected for any of their achievements from May 2014 to April 2015. You may nominate for as many or as few of the awards as you like, and are able to submit multiple nominations for an award.
The most successful nominations will be those which give concrete examples of efforts and successes of an individual or society, and which provide as much evidence as possible.
The nominees will be fact-checked and shortlisted by the Performing Arts Committee before sending the shortlist to Creative Industries Committee, who will select the winners. The awards and prizes will be presented at the Performing Arts Ball in May.
So… if there's someone in your society who you think deserves recognition for all they do, please tell us why via the Performing Arts Awards Nomination Form!
Good luck!